In Rosh Pina, Galilee, Israel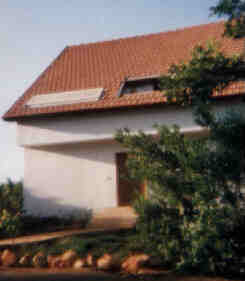 20 min from tiberias, In a Pastoral atmosphere
with a shower , a toilette, a refrigerator and a Tv in every room
with a kitchenette, a living room and a massage bathroom.
One Sweet and Two rooms with big balcony attached.
around the house, a wide field with a variety of animals:
a donkey and chickens and quail birds.
The fresh quail eggs ( a real Delecacy!!!)
are given to the guests
A wide range of activities and attractions in the area:
Horse or Donkey or Camel riding, Jeep tours, Rafting on the Jordan, Visiting holy places, Swimming in the Kinneret, Snepling in the Galilee mountains, Many possibilities for trips in the golan hights, Skiing in the Hermon (in the winter), Bicycle trips in the area, "do it yourself" Litchi and Blackberry harvesting,
in Rosh Pina, All kinds of restaurants (17 restaurants only in Rosh Pina), and many art galleries. You can tour the old city of Rosh Pina and in the Rosh Pina Valley
18$ PER BED
Minimum 4 people per room.
a supplment for groceries in the refrigerator (few kinds of cheese, salats, gazoz, eggs, and more...) is 7$
For Ordering:
Tel: +972-6-6801650 Edna
Mobil phone: +972-54-656926 Edna
Fax: +972-6-6801694
Email: plez@netvision.net.il